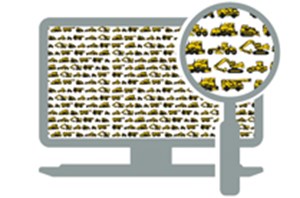 Off-Highway Research has updated its the International, Chinese and Indian Database Services with 2018 data and forecasts to 2023. All three are now available for subscribers to access and download through our website www.offhighwayresearch.com.
Subscribers can download the latest data using their usual username and password via the Subscriber Login section of www.offhighwayresearch.com. If you have any questions or problems gaining access, please contact Gabby McNamara on mail@offhighwayresearch.com or phone +44 (0)1892 786271.
If you do not currently subscribe to the International, Chinese or Indian Databases Services, but would like to receive more information or set up a subscription, please contact mail@offhighwayresearch.com.
Off-Highway Research's Database Services offer sales and production figures by manufacturer, product and country for a broad range of earthmoving, road building and lifting equipment types across 19 major international markets. Our clients find these to be indispensable tools for the analysis national and international market trends, helping them make informed strategic decisions to profitably grow their businesses. Brochures can be found here.
A trail version of the online Database system is also available. Contact mail@offhighwayresearch.com for more details.
Key findings form the new data and forecast will be discussed at Off-Highway Research's breakfast brieifing on Tuesday 9th April, during the Bauma exhibition. Click here for more details and to book your place.