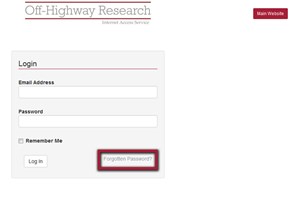 As part of the migration to Off-Highway Research's improved website, it has been necessary for us to reset some individual clients' usernames and passwords to enhance security. All individuals' passwords are now the e-mail address we hold on file for them and passwords are encrypted so that only the individual user can access them. This provides much improved security for both Off-Highway Research and its clients.
An unfortunate impact of this is that some clients' previous usernames and/or passwords will no longer be valid. If you have difficulty logging in to access your Off-Highway Research subscriptions, please contact us at mail@offhighway.co.uk to check we hold the correct e-mail address/username for you.
Due to their encryption, we are no longer able to supply clients with forgotten passwords. If you do not remember your password, please click the 'Forgotten Password' link when you log in and enter your e-mail address in the subsequent page.
Account administration
With the upgrade of our website and client portal, we have also made some cosmetic changes to our account administration system. The documentation and 'How to' guides relating to account administration have been updated to reflect this, and are available to download here.
Again, those individuals within our clients' organisations responsible for administering access to Off-Highway Research reports and data to their colleagues are welcome to contact us at mail@offhighway.co.uk for support and assistance.