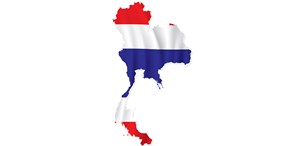 Annual construction equipment sales in Thailand are expected to rise from the current level of 7,500 units to 10,000 over the medium term. The upswing is expected to start following a general election which is due in 2019.
Although demand has been patchy over the last few years, Off-Highway Research's new report, The Construction Equipment Industry in Thailand, forecasts that equipment sales will rise in response to infrastructure investment. The most significant gains are likely to be seen in 2020 and beyond, and this should be particularly positive for Thailand's large market for crawler excavators.
As well as having significant equipment sales, Thailand is also an important manufacturing base, particularly for crawler excavators. In addition, crawler dozers, mini excavators, motor graders and wheeled loaders are manufactured in Thailand, making it an important country for component suppliers. The high population of equipment – Off-Highway puts this at more than 87,000 construction machines plus a further 350,000 agricultural tractors – also makes it a significant country for companies active in the aftermarket.
Off-Highway Research's new 220 page report, The Construction Equipment Industry in Thailand, is now available to buy from www.offhighway-store.com. The study includes coverage of 17 equipment types and discusses the market size, market shares, production & component sourcing where applicable, distribution, machine population and models available in Thailand, as well as providing five-year sales forecasts.
There is also an extensive manufacturer and distributor profile section, covering the major participants in the industry, along with background information on the Indonesian economy and its growth drivers.
All sections included detailed data tables and in-depth analysis of trends. The report is in .pdf format, with all data tables provided in Excel format.
An update on Off-Highway Research's best-selling 2014 study on Thailand, this latest report is believed to be the most extensive and in-depth study ever produced on the country's construction equipment industry. The Construction Equipment Industry in Thailand can help OEMs, component suppliers and aftermarket participants alike identify growth opportunities for the profitable expansion of their businesses.
Click here to buy online or contact mail@offhighway.co.uk for more information.
Downlaod the brochure

580.50 KB