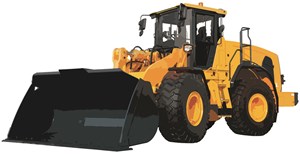 Global wheeled loader sales last year reached 163,139 units, a 33 per cent rise on 2016. These machines had a retail value of US$14.8 billion, according to Off-Highway Research's new report, The Global Wheeled Loader Industry.
The key driver of growth was a surge in the Chinese market, which represented 43 per cent of global sales in 2017. The underlying factor was a sharp increase in infrastructure investment by the Chinese Government and through the Public Private Partnership (PPP) model.
Despite the up-tick in construction activity and sales, wheeled loaders are declining in relative popularity in China due to the rise of compact and crawler excavator and 'economical' wheeled loaders as alternative tools.
This year is expected to represent the high point of the current cycle of global wheeled loader sales, with demand set to exceed 170,000 machines. The expected decline in China over the next two to three years will see global sales decline. However, this will be partially offset by growth elsewhere in the world, most notably in North America.
The expected decline of a relatively low-cost market in China, and the rise of the higher value North American region means the value of the global wheeled loader segment will continue to climb despite the dip in unit sales. Sales in the sector are expected to reach US$17.8 billion (in today's prices) by 2022, compared to US$14.8 billion in 2017.
Off-Highway Research's new 300 page report, The Global Wheeled Loader Industry, is now available to buy from www.offhighway-store.com. The study includes sections on China, Europe, India, Japan, North America plus the rest of the world, each covering market size and trends, a five-year sales forecast, production, component sourcing, foreign trade, market shares, pricing, population and end-users.
There is also an extensive section of manufacturer profiles, covering the major wheeled loader OEMs around the world, their history, production bases, regional and global sales, and their market position.
All sections include detailed data tables and in-depth analysis of trends. The report is in .pdf format, with all data tables provided in Excel format.
Believed to be the most extensive and in-depth study ever produced on this global segment, The Global Wheeled Loader Industry, can help OEMs, component suppliers and aftermarket participants alike identify growth opportunities for the profitable expansion of their businesses.
Click here to buy online or contact mail@offhighway.co.uk for more information.
A Chinese language version of the report will be available later this year.
Download the brochure

613.53 KB