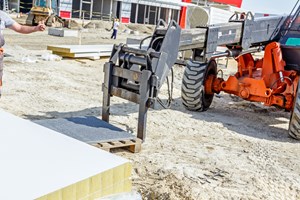 Sales of rough terrain lift trucks in France grew almost 9 per cent last year to take demand to 7,680 machines. The segment is dominated by telescopic handlers, with masted rough terrain lift trucks accounting for just 2 per cent of sales. This was close to the strongest the market has been in the post-crisis years. The only time sales have been higher was 2012, when demand totalled 7,925 units.
The recent growth is put down to a number of factors. "By 2015, just as sales were slowing to the agricultural market, salvation came in the form of the Macron Law. Rental companies were amongst the first to seize the opportunity to renew their fleets, with big companies such as Loxam and Kiloutou investing heavily in 2016 and 2017. Sales were further boosted in 2017 with the upturn in both the building and public works sectors, taking overall sales to 7,680 units, the highest level since 2012," said Off-Highway Research's new report on the French rough terrain lift truck industry
As well as being a significant market for telescopic handlers, France is also a major production hub, with Manitou, Bobcat and Haulotte all manufacturing there. Off-Highway Research's new report indicates that the surge in the domestic market, along with strong demand elsewhere in Europe, helped push production to a high in 2017.
Off-Highway Research's forecast is for growth to continue in the segment this year and next. "Many of the sales over the past two years have been of equipment to replace ageing fleets, especially in the rental sector. Activity in the construction sector is forecast to continue to grow over the next few years, requiring not only ongoing replacement sales but creating new demand," said the report.
Off-Highway Research's May 2018 Rough Terrain Lift Trucks France Equipment Analysis is now available to subscribers to the European Service. Click here to log in. The report can also be bought as a stand-alone publication by non-subscribers. Click here for more details or contact mail@offhighway.co.uk to enquire about a subscription.