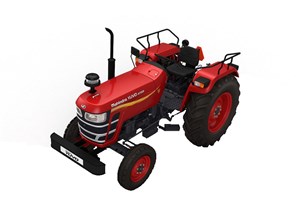 The market for tractors above 15 HP in India stood at more than 675,000 units last year, a rise of 16 per cent on 2016. The market is more than twice the size it was a decade ago and is forecast to rise further over the medium term.
As well as being the largest tractor market in the world, India is a huge producer of these machines, with some 780,000 being produced last year. Although the main market for tractors is of course agriculture, they are also bought by contractors, utilities companies and government bodies for use in construction and even mining and quarrying.
Looking to the future, Off-Highway Research's report on the segment said, "There are several factors which will determine the growth of the agricultural tractor market in the country. Among favourable factors credit availability, good monsoons, government support, the shortage of farm labour, replacement demand, rural prosperity and rising demand for food grains and other agricultural produce are all important."
Off-Highway Research's May 2018 Agricultural tractors India Equipment Analysis is now available to subscribers to the Indian Service. Click here to log in. The report can also be bought as a stand-alone publication by non-subscribers. Click here for more details or contact mail@offhighway.co.uk to enquire about a subscription.