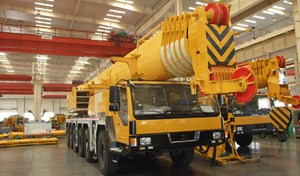 Sales of mobile cranes in China more than doubled last year to almost 20,000 units. A further 43 per cent growth is expected in 2018 and demand is expected to peak in 2019 when some 31,000 mobile cranes are expected to be sold. Although some decline is expected following that, the market should stay above 20,000 units per year – greater demand than was seen from 2013-2017.
"Investment in infrastructure has slowed in the first half of this year, but on-going projects will continue to drive mobile crane demand. Increased investment in industrial sectors will also spur on demand for mobile cranes. The government now plans to increase investment into infrastructure as a means of protecting the domestic economy from external impacts, and as a result buying confidence will be supported by sustainable demand," said the report.
Demand in China is dominated by truck-mounted cranes, which accounted for 94 per cent of demand last year. Lattice boom crawler cranes are the next most popular type.
In addition to benefitting from strong domestic demand, China's crane manufacturers also saw a 12 per cent rise in exports last year, with some 2,600 cranes being sold overseas. These sales were predominantly to other emerging markets, with very few machines being sold to developed economies
Off-Highway Research's 72-page October 2018 Mobile Cranes China Equipment Analysis is now available to subscribers to the Chinese Service. Click here to log in. The study includes sections on market size and trends, a five-year sales forecast, production, component sourcing, foreign trade, market shares, pricing, population and end-users.
The report can also be bought as a stand-alone publication by non-subscribers. Click here for more details or contact mail@offhighway.co.uk to enquire about a subscription.